T-MOB was born a few years ago and today we are almost 40 people who work daily as a team betting on a sustained development both personally and professionally.
We have a clear work philosophy: that the people who work with us are happy, and we accomplish this by being able to work in a flexible environment, understanding individualities and offering the necessary tools, so each employee, can give the best of themselves and overcome the challenges that arise.
Our industry is dynamic, avant-garde, evolves in the blink of an eye and challenges us on how to do things better and don't be left behind. That is what we search for in every new employee who joins us: attitude, commitment, responsibility, values, transparency and effort.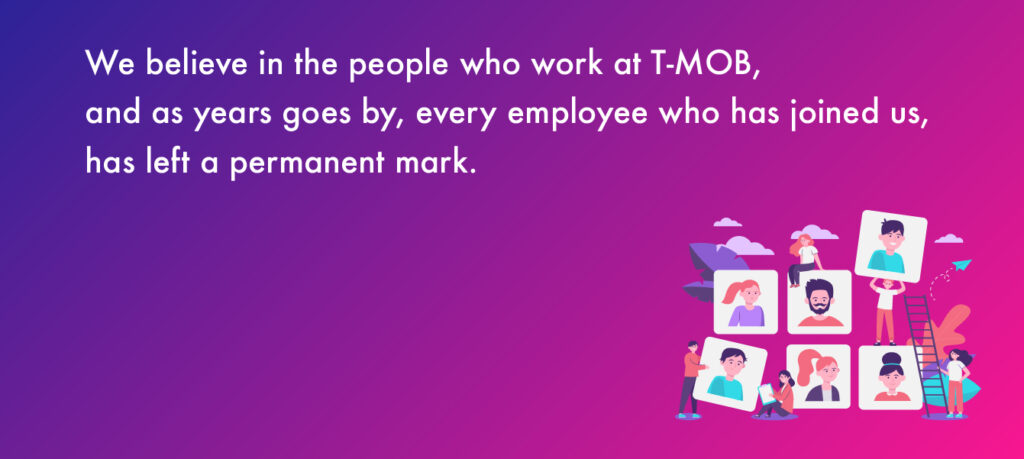 Our work environment allows us to exchange opinions, suggestions and ideas that are put into action. Our company is young, has an entrepreneurial spirit and we prioritize that everyone feels comfortable developing their work.
We also make mistakes, we are all human beings after all, but we maintain a strong virtue: we change the paradigm quickly and effectively to quickly detect and correct shortcomings. We are always learning.
This is our culture, this is T-MOB. The year 2022 will bring us closer to huge challenging projects, continuing our global expansion, opening new operations in several continents and to keep learning to improve ourselves.

We will not stand still, that is not within our logic. We will continue pursuing the collective growth of our people, who have a direct impact in our business and leave a mark in the community where they develop.
From Capital Humano, we welcome all those who want to get to know us, give us some feedback or just take a look at our website and learn about our mobile products and other services. Welcome to T-MOB, welcome to Thinking Mobile!